35th  Annual Production Sale

Preview for the 35th Annual Sale

Come out to the Ranch and let us help you pick the right colt for your needs.

                                Friday September 25th 8:00 am to 5:00 pm at the 
Cooper Ranch
                                Saturday September 26th 8:00 am to 2:00 pm at the 
Cooper Ranch
                                Sunday September 27th Cooper Quarter Horse Sale at the 
Cooper Ranch
Auctioneer- Carey Macy, Alta Vista, KS

Office Manager- April Tucker

Owner- Larry Cannon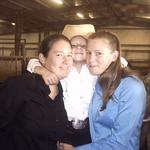 TERMS and CONDITIONS

Terms of sale is cash (personal checks accepted). Payments for horses purchased shall be made immediately after the sale and before any horse is removed. All registration papers will be applied for by the seller. Transfers will be at Buyer's expense. If the horse is not transferred, only a copy of the registration papers will be given  or mailed to the buyer.

NOTE: Fee for transferring ownership is $20.00 for an AQHA member and $55.00 for a non-member. Continuing membership in AQHA is $35.00. New membership fee is $40.00. 

Each animal will be inspected as it enters the sale ring and any known defects will be announced before the bidding starts on said animal. When this policy is followed, no horse can be rejected by the purchaser. When the animal leaves the ring, it is the property of the purchaser. If it is not convenient for the purchaser to take delivery of animal within 24 hours, arrangements can be made for horse to be kept at buyers risk and expense.

Please be careful around the horses 



This is year is the Thirty-Fifth Annual Production Sale of Performance Bred Quarter Horses September 27th 2014 at 1:00pm. We are featuring popular bloodlines of today as well as strong foundation breeding of the past (
LEO
, 
DOC BAR
, 
POCO BUENO
, 
YELLOW DOG
, 
KING
, 
SMART CHIC OLENA
, 
PACIFIC BAILEY
, HANCOCK, 
JOE REED
, 
PEPPY SAN
, 
WAGGONER
, 
DOC O'LENA
, 
LENA SPARK
, 
DUAL PEP
, 
COWBOY SMARTS
). The Cooper Ranch and Select Breeders are offering colts, yearlings and broke horses from proven performance bloodlines. Offerings horses for Show, Pleasure, Youth, Ranch, Cutting Horses and Speed pedigree.